Perfect weeknight or weekend pork roast, with only 40 minutes from preparation to eating! As you can tell, we eat a lot of pork in our house because it can be easy to prepare and is a lean/healthy meat. Like many busy people or others that hate to clean, I love it when I can prepare a meal that includes my vegetables/starch in the same dish or pan like this one. It also helps with timing, I rarely can time my protein and sides to all be done at the time and this does it all at once! Usually, pork is paired with apples in some form and I am a big fan of warm apples. The sweetness of the apples paired with the acid from the vinegar and mustard sauce are a perfect balance. Hope you enjoy this as much as we did!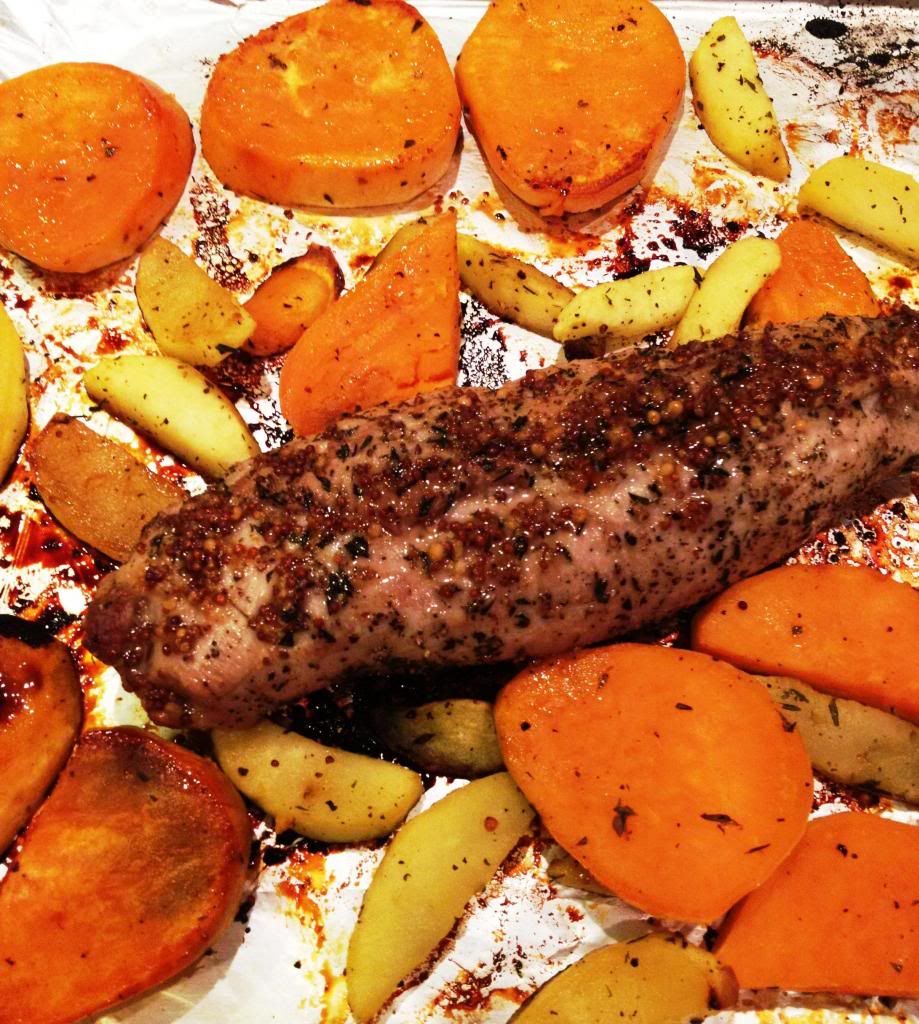 Maple Pork Roast
Serves: 4
Source: Self Magazine
Ingredients:
1.5 lb pork tenderloin
3 tsp canola oil, divided
2 Tbsp chopped fresh thyme, divided
3/4 tsp salt, divided
1/2 tsp freshly ground back pepper, divided
2 Tbsp maple syrup
1 Tbsp cider vinegar
2 tsp whole-grain mustard
2 sweet potatoes (~1lb), peeled and cut into 1/2 inch thick slices
1 large Fuji or similar apples, peeled, cored and cut into 1 inch wedges
Directions:
Position oven racks on upper and lower shelves; preheat oven to 450F.
Coat pork with 1 tsp oil; sprinkle with 1 Tbsp thy, 1/4 tsp salt and 1/4 tsp black pepper. Coat a rimmed sheet pan with cooking spray. Place pork in the center of the pan; roast on upper rack until browned, about 10 minutes.
In a small bowl, combine maple syrup, vinegar and mustard. In a larger bowl, toss potatoes a apples with remaining 1 Tbsp thyme, 2 tsp oil, 1/2 tsp salt and 1/4 tsp black pepper.
After the 10 minutes, spread potato and apple mixture in a single layer around the pork on the pan. Coat the pork with half of the syrup mixture; place pan on lower oven rack; roast until pork's internal temperature is 145 degrees, 10-15 minutes. Transfer pork to a plate and cover loosely with foil; let rest 1 minutes. Turn sweet potatoes and apples and return to oven until tender 8-10 minutes.
Spoon remaining syrup mixture over pork; slice and serve with sweet potatoes and apples!