It seems that lately I am struggling to get all of my veggies in for the day. An easy way I have found to help with that is by making a crustless quiche for dinner. They are pretty healthy, full of protein from the eggs and packed with veggies. This particular one I used up some frozen spinach and broccoli in the freezer, but the original called for mushrooms. You can use whatever you have on hand or your favorite vegetables, the base will remain the same. The best part is that this can be made for basically any meal. Even if you have it for dinner like us, leftovers can be eaten for breakfast, lunch or dinner the next day!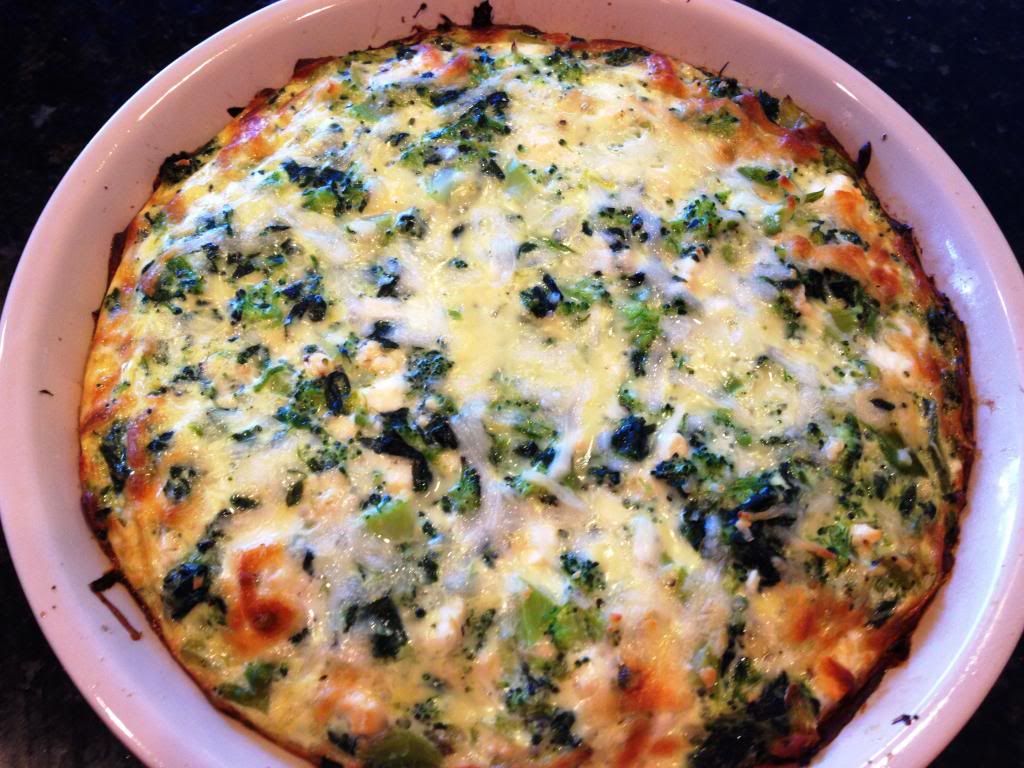 Spinach, Broccoli & Feta Crustless Quiche
Adapted from: Tasty Kitchen
Serves: 6
Ingredients:
10 ounces, weight
Frozen Spinach (defrosted and drained)
10 ounces, weight

Frozen chopped broccoli

(defrosted and drained)


2 ounces, weight

Feta Cheese, Crumbled




6

Eggs




8 ounces, fluid

skim Milk




⅛ cups

Parmesan Cheese, Freshly Grated




⅛ cups

Mozzarella Cheese, Shredded


Salt And Pepper, to taste
Directions:
Preheat your oven to 350F. If your frozen spinach and broccoli are not already thawed, thaw it in the microwave according to package instructions. Empty the box into a colander and let it drain while you begin to prepare the rest.
Spray a pie dish with non-stick spray. Squeeze the rest of the water out of the spinach and spread it out on the bottom of the pie dish. Next add the broccoli and crumbled feta.
In a medium bowl whisk together the eggs until fairly smooth. Add the milk, Parmesan and another small sprinkle of pepper. Whisk to combine. Pour this mixture into the pie dish over the spinach, broccoli and feta.
Sprinkle the shredded mozzarella cheese over the top. Place the pie dish on a baking sheet for easy transfer into the oven. Place the quiche into the preheated oven and bake until it is golden brown on top and the center is solid. Every oven is different but this should take between 45 minutes and an hour. Slice and serve!