These Chocolate Chip Mini Cheesecakes are a simple cheesecake batter baked in a standard muffin pan. They don't require a spring-form pan or water-bath or anything fancy/complicated. The muffin tins help make portions easy and muffin liners mean less cleaning! The cheesecake batter is a thick, creamy mixture and it bakes up to have a rich, creamy texture filled with chocolate chips. While this recipe makes only 8 mini cheesecake, it was perfect for our small get together and we weren't tempted with a ton left overs. Cheesecake can be a really heavy dessert, but by making them as minis you were satisfied but not weighed down. It can be doubled if you need more for a larger party or get together. Seal the leftovers and they will keep well in the refrigerator for a couple of days. We preferred them after they chilled in the refrigerator.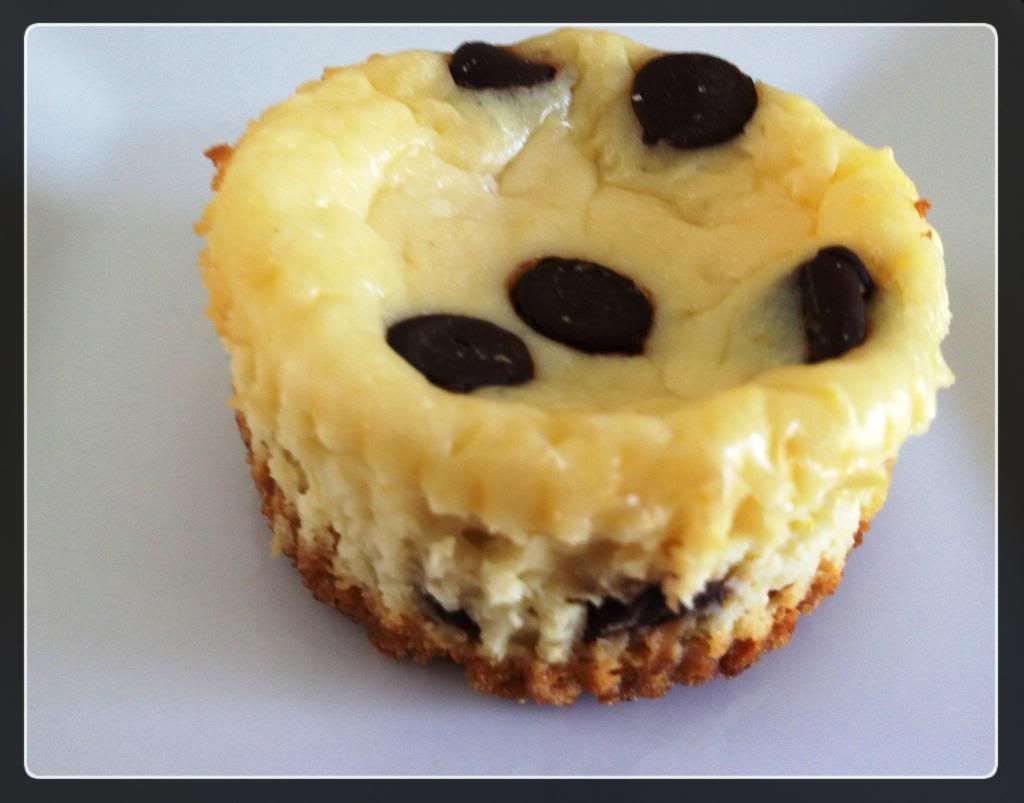 Chocolate Chip Mini Cheesecakes
Yields: 8-9
Source: Baking Bites
Ingredients:
Crust
1 cup graham cracker crumbs
2 Tbsp brown sugar
small pinch salt
2 ½ Tbsp butter, melted
Cheesecake
8-oz cream cheese, softened
2 Tbsp sour cream or greek-style yogurt
1/3 cup sugar
1 large egg
1 tsp vanilla extract
1 cup chocolate chips
Preheat oven to 350F. Line 8 cups of a muffin pan with paper liners.

In a medium bowl, make the graham cracker crust. Mix together graham cracker crumbs, brown sugar and salt and stir to combine. Pour over melted butter and stir with a fork to moisten the crumbs.

Place about a Tablespoon of crumb mixture in each of the prepared muffin cups and pack down into an even layer.

In a large bowl, make the cheesecake. Cream together cream cheese, sour cream and sugar until smooth. Beat in the egg and vanilla extract.

Place 1 tbsp chocolate chips into each of the muffin cups. Evenly divide cheesecake batter between the muffin cups, covering the first layer of chocolate chips. Place another Tbsp of chocolate chips on top of the cheesecake batter in each of the muffin cups.

Bake for 20-25 minutes, until cheesecakes are set.

Allow to cool for 10 minutes in the muffin pan, then carefully transfer cheesecakes to a cooling rack to cool completely before refrigerating.