Happy Friday! I can't believe November is almost over and the holiday are now in full swing! It seems that from Thanksgiving through New Year's is always a whirlwind of food, friends and traveling. I felt like this month's foodie penpals commenced the holiday season with gifts to shop for and receive.
This is my fifth month participating in the Foodie Pen Pals hosted by Lindsay at
The Lean Green Bean
. It's a great way to "meet" other bloggers and blog readers while also receiving and creating a package! Here is how it works: On the 5th of the month, you will receive your penpal pairing via email. It will be your responsibility to contact your penpal and get their mailing address and any other information you might need like allergies or dietary restrictions. You will have until the 15th of the month to put your box of goodies in the mail. On the last day of the month, you will post about the goodies you received from your penpal! The boxes are to be filled with fun foodie things, local food items or even homemade treats! The spending limit is $15. The box must also include something written. This can be anything from a note explaining what's in the box, to a fun recipe…use your imagination!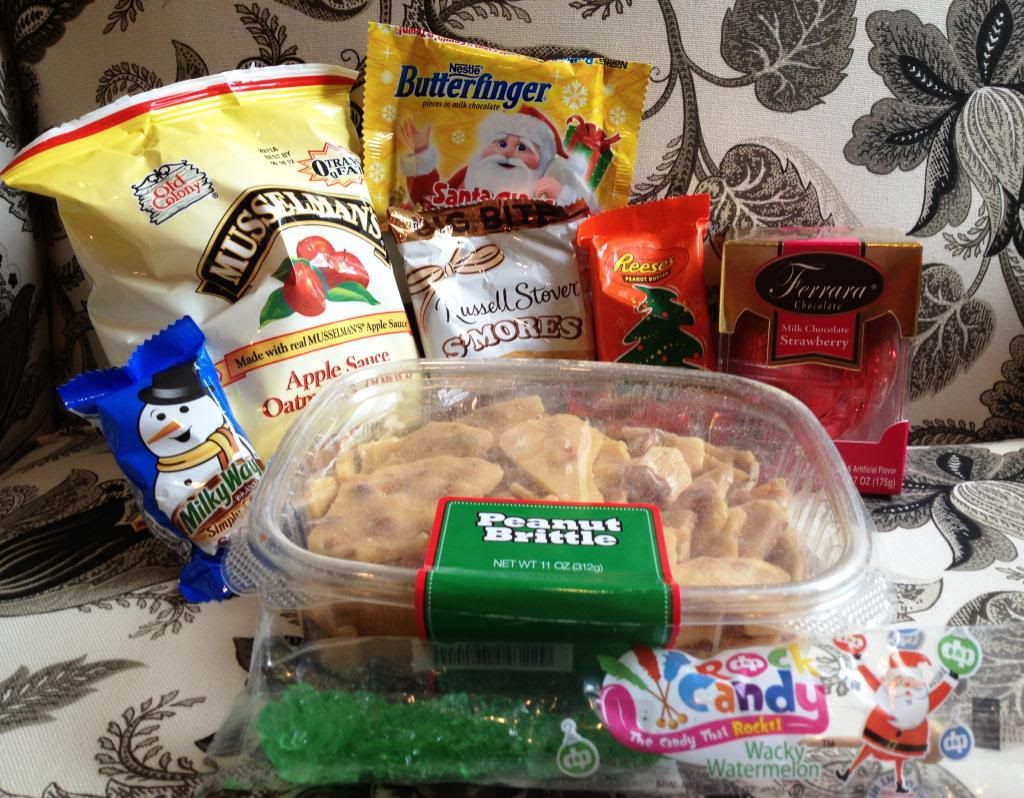 This month I was paired up with Fawn who must have really known me well! I told her a I had a sweet tooth and boy did she send a package catered just for me! I may or may not have consumed most of the items already! Inside was a milkyway snowman, Reese's christmas tree (my favorite), butterfinger santa, peanut brittle (salty and sweet), applesauce oatmeal cookies (sounds healthy!) and some of my childhood favorites, rock candy and chocolate ornament that you crack open to individual slices. We used to get the chocolate oranges that you would hit to break into the orange "segments". So like I said this was heaven in a box! Thank you Fawn!
To see what I sent my match Molly check our her blog Adventures in Impulse.