Lasagna is a great way to feed a crowd with not a ton of work, or if you want to have a lot of leftovers. If you are having a group over for the holidays or New Year's Eve, this is a healthier spin on lasagna that tastes just as great. Jason's family is Italian so for Christmas there is always a lasagna in addition to the main meal. This year it was just us, so we made this lasagna together to try and incorporate some tradition on the day, but would be good any day! The original recipe called for beef, but we used ground turkey to cut down on the fat and didn't miss the beef. By adding spinach to the lasagna it is a great way to get in some vegetables, especially with kids. The recipe made a ton, so our freezer is full of 2 piece portions to defrost for quick weeknight meals.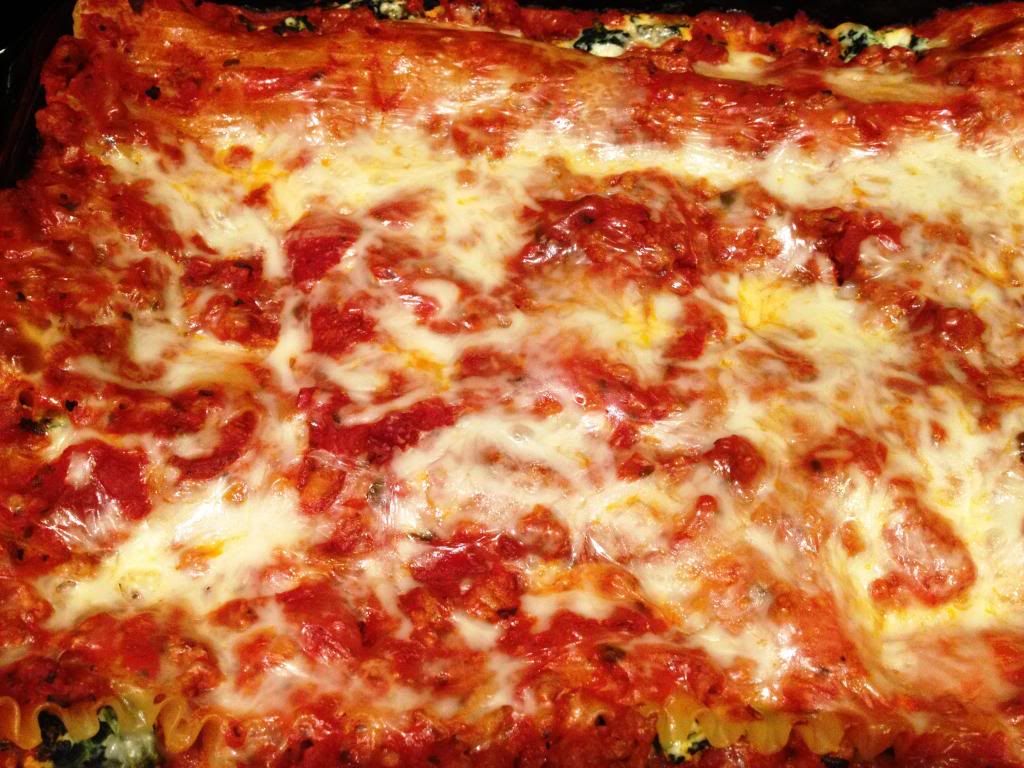 Turkey and Spinach Lasagna
2 jars (24 ounces each) spaghetti sauce
1 package (10 ounces) frozen chopped spinach, thawed and squeezed dry
2 cups part skim ricotta cheese
2 cups shredded part-skim mozzarella cheese, divided
9 no-cook lasagna noodles
In a large skillet, cook beef and onion over medium heat until meat is no longer pink; drain. Stir in the spaghetti sauce, garlic, basil and oregano. Bring to a boil. Reduce heat; cover and simmer for 10 minutes. In a large bowl, combine the spinach, ricotta and egg.


Spread 1-1/2 cups meat sauce into a greased 13-in. x 9-in. baking dish. Top with three noodles. Spread 1-1/2 cups sauce to edges of noodles. Top with half of the spinach mixture and sprinkle with mozzarella. Repeat layers. Top with the remaining noodles, sauce and mozzarella cheese.


Cover and bake at 375° for 30 minutes. Uncover; bake 10-15 minutes longer or until bubbly. Let stand for 15 minutes before cutting.