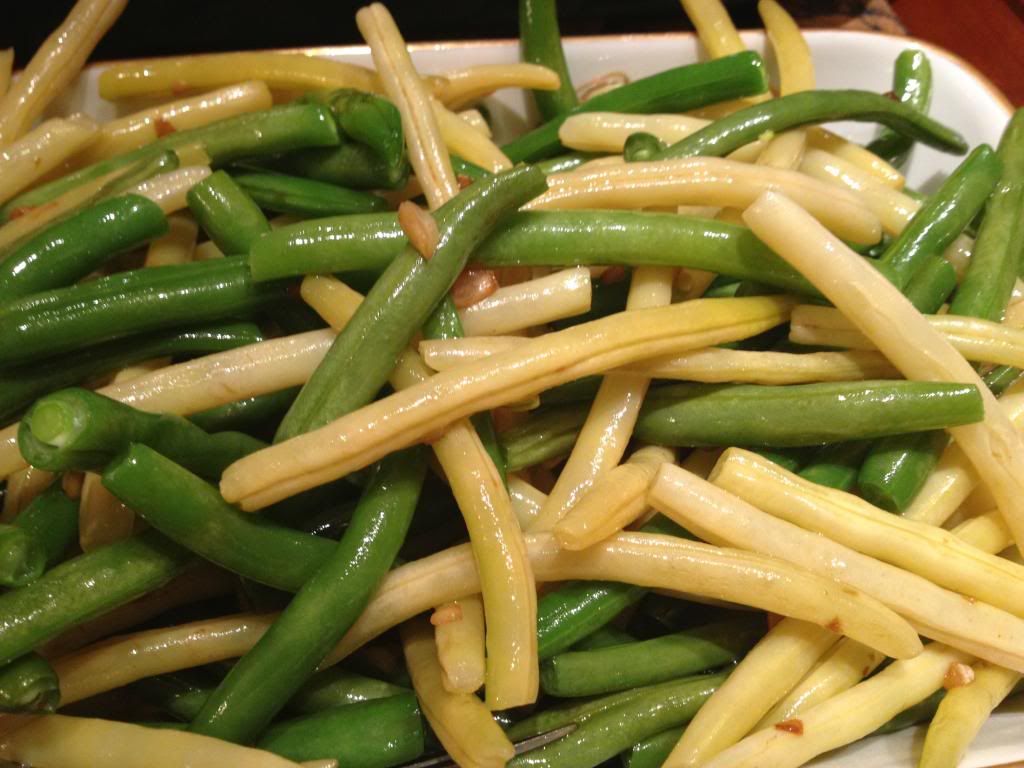 We actually made these as a healthy side dish for our Thanksgiving meal. It is something that was quick, simple and flavorful. I am a big fan of green beans, just love that crunch and learned that I like yellow beans just as much. The originial recipe calls for wild mushrooms, but we were already having a mushroom stuffing so we omitted them. I included them in the recipe in case you want to incude them as well, but my hubby is not a mushroom fan so doubt I will ever make it with them. If you like some heat feel free to add some crushed red pepper flakes.
Green and Yellow Beans with Wild Mushrooms
10 Servings (3/4 cup each)
Source: Cooking.com
Ingredients:
1lb green beans, trimmed
1lb yellow wax beans, trimmed
3 Tablespoons extra virgin olive oil
2 cloves garlic, minced
8 ounces wild mushrooms (chanterelle, oyster or porcini, trimmed and sliced)
1/2 tespoon kosher salt, divided
Freshly ground pepper to taste
Directions:
Bring a large pot of water to a boil. Add green beans and wax beans and cook until tender-crisp, about 4 minutes. (Cook for another minute or two if you like your green beans more tender). Drain well.
Meanwhile, heat oil in a large heavy skillet over medium heat. Add garlic and cook, stirring, until fragrant, about 1 minute. Stir in mushrooms and cook, stirring, until they release their juices and most of the liquid has evaporated, about 5 minutes. Season with 1/4 teaspoon salt and pepper.
Reserve 1 Tablespoon of the mushrooms for garnish. Add the cooked beans to the mushrooms in the pan and cook, stirring to combine, until heated through, 1 to 3 minutes. Season with the remaining 1/4 teaspoon salt and pepper. Serve topped with the reserved mushrooms.