Happy Sunday and St. Patrick's Day! I always forget about the holiday until I leave my house and see everyone dressed in green. Needless to say, we didn't go out and celebrate. For some reason in my mind breakfast on the weekends can be indulgent. Maybe it is because you have the time to make something different and delicious, or maybe it's as a reward for the work week. These "skinny" chocolate chip buttermilk scones are that fix. Made with whole wheat flour it gives them a little bit nuttier and denser flavor and texture but are delicious. And being under 200 calories makes it so you can feel indulgent without feeling guilty. I made these for some company that came over for coffee since I couldn't just serve a beverage without any food!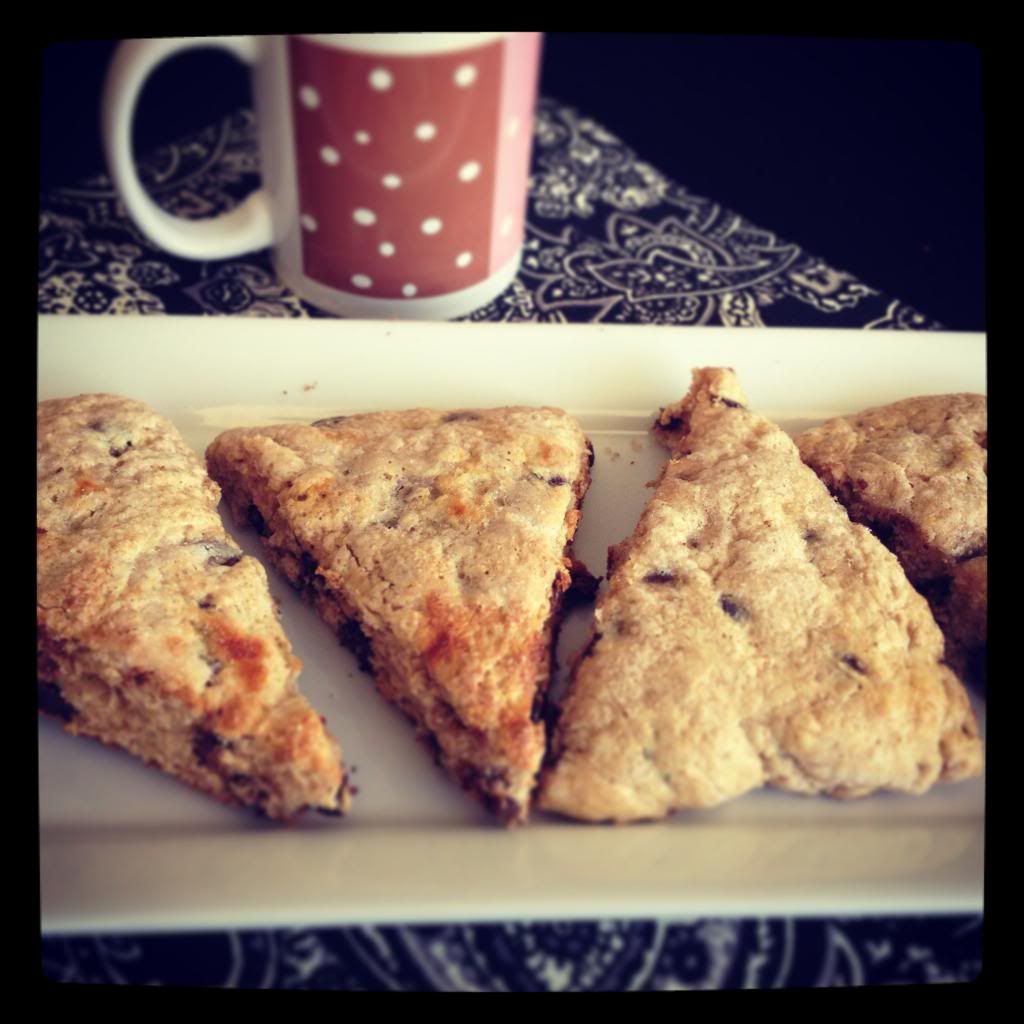 Chocolate Chip Buttermilk Scones
Yields: 12
Source: Skinnytaste
Ingredients:
3/4 cup cold buttermilk (lowfat if possible)
1/4 cup sugar
2 tsp vanilla extract
1 large egg
1 cup all purpose flour
1 cup white whole wheat flour
1 Tbsp baking powder
1/2 tsp salt
3 Tbsp chilled butter (must be cold) cut into small pieces
3/4 cup chocolate chips
cooking spray
1 large egg white, lightly beaten
1 Tbsp sugar

Directions:
Preheat oven to 375°. Combine the first four ingredients in a medium bowl, stirring with a whisk. Spray baking sheet with cooking spray.

Combine flour, baking powder, salt, in a large bowl, stirring with a whisk. Cut in chilled butter with a pastry blender, or you could use 2 knives, until the mixture resembles coarse meal. Gently fold in chocolate chips. Add milk mixture, stirring just until moist.

Place dough onto a floured surface and knead lightly four times with floured hands. Form dough into an 9-inch circle onto baking sheet, about 3/4" thick. Using a knife, cut dough into 12 wedges all the way through.

Brush egg white over dough and sprinkle evenly with sugar. Bake until golden, about 18-20 minutes, depending on your oven. Serve warm.

Nutritional Information:
Calories:

199.6

• Fat:

8.1g

• Protein:

3.7g

• Carb:

29.8g

• Fiber:

2.3g

• Sugar:

12g
Sodium: 257.4mg