The name of this dish does not lie, this shrimp dish definitely has a kick. We had ours over a bed of white rice to soak up some of the spicy sauce and it was delicious. It can also be served over pasta, just add another tablespoon of olive oil and be sure to use the 2 tablespoons each of lemon juice and wine to create a thinner sauce.
Since shrimp cook in under 5 minutes this is an extremely quick meal that is perfect for a busy night and you won't feel like you skimped on anything. And shrimp are something that are not too expensive in the frozen section so we usually have a bag on hand in the freezer meaning you don't even have to go to the grocery store to make this!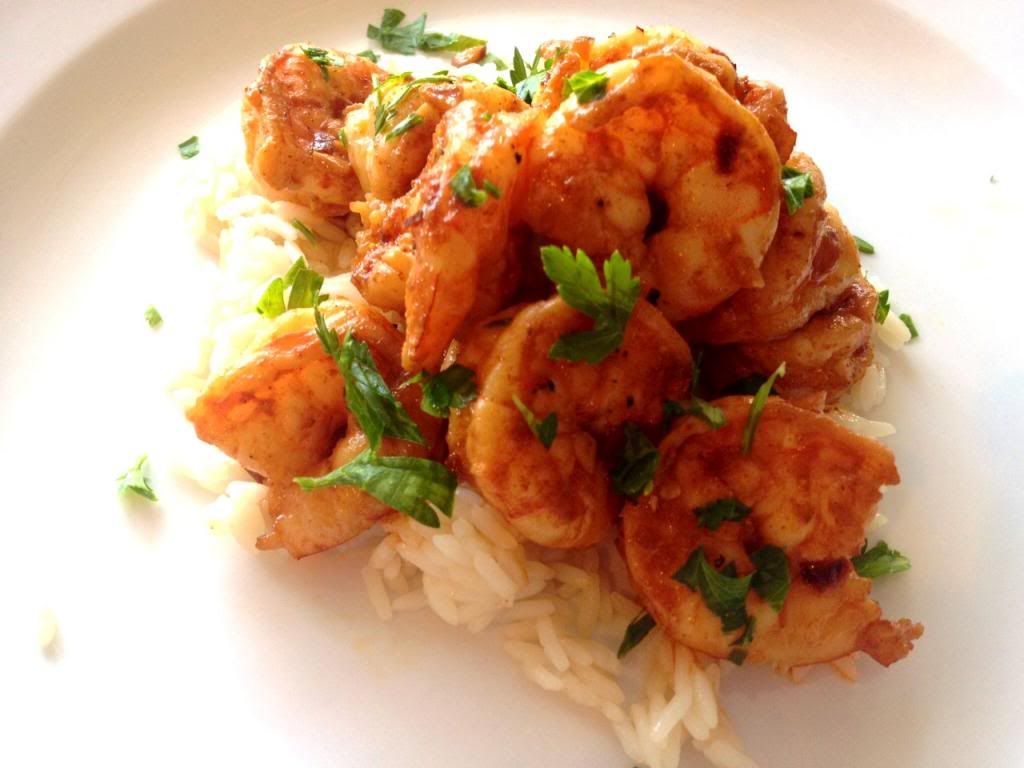 Spicy Shrimp with Garlic and Parsley
Serves: 2
Ingredients:
3 Tbs. olive oil
2 garlic cloves, finely minced
1 tsp. red pepper flakes
1 tsp. sweet paprika
1 lb. medium shrimp, peeled and deveined
1 to 2 Tbs. fresh lemon juice
1 to 2 Tbs. dry white wine
salt and freshly ground black pepper, to taste
chopped fresh parsley
Directions:
Place olive oil in a saute pan over medium heat and warm.
Add garlic, pepper flakes and paprika.
Saute for 1 minute until fragrant.
Increase heat to high, add the shrimp, lemon juice and dry white wine, stir well, and sauté until the shrimp turn pink and are opaque throughout, about 3-5 minutes.
Season with salt and black pepper, sprinkle with the parsley and serve.